Why Buy A Star Log Cabin:
Unlike a camper or park model that looses value every year, a Real Log Cabin holds its value and will increased the value of your property.
 Log Cabins are low maintenance with all metal roof systems and fully treated floors.
Log cabins enhance the beauty of your property, create atmosphere and ambiance  to your outdoor and indoor environments as only a real Log Cabin can do.
Log cabins are Eco Friendly all natural white pine logs  are free of adhesives, plastic, glue fumes and other toxic materials for a  healthy living environment for you your family and pets.
Full log cabins are rodent free with no wall and floor cavities for mice and other critters to nest in and  have open vaulted ceilings to keep squirrels, mice, birds and bats from sharing the cabin with you.
Full log cabins hold up to hot and cold weather changes better than stick built structures. Paneling and drywall have tendencies to warp and crack under hot and cold temperature changes unlike full pine log structures. A log cabin can be shut down over the winter months and not effect the log structure.
Not all weekends at the property are going to have perfect weather. Star Log Cabins are a great place to hang out on those not so perfect days. Enjoy warming up with a cup of coffee or tea by the wood stove and making memories playing cards or board games with friends and family or catching some needed rest as the rain softly hits the metal roof  as you doze off in a deep sleep.
Star Log Cabins delivers fully built  cabin to your property ready to use.
Cabins can be ordered with interior walls, storage lofts and many other options.
Built on pressure treated skids no basement is needed with three foundation options, compact gravel, concrete slab or 6×6 post w/ concrete cookies.
Base Cabin Pricing Includes:
All Metal Roof and Soffit 
Full Log Construction
One 36″ Rustic Wood Entry Door with Latch
Fully Treated Floor System on Skids
One large egress Window
Vaulted Ceiling
Electric Option– Star Log Cabins can Pre-drill electric holes in logs.  We do not install electric, plumbing or kitchen and bathroom fixtures, this would need to be done after cabin is delivered to your property.
LOG CABIN PRICING
| 10 FOOT WIDE CABINS (12′ wide with overhangs) | BASE PRICE |
| --- | --- |
| 10′ X 20′ | $19,350.00 |
| 10′ X 22′ | $20,130.00 |
| 10′ X 24′ | $20,910.00 |
| 10′ X 26′ | $21,690.00 |
| 12 FOOT WIDE CABINS (14′ wide with Overhangs) | BASE PRICE |
| --- | --- |
| 12′ X 20′ | $20,550.00 |
| 12′ X 22′ | $21,330.00 |
| 12′ X 24′ | $22,110.00 |
| 12′ X 28′      –  Best Seller –  | $23,670.00 |
NEW 34' CABIN WITH 6'COVERED PORCH PACKAGE PRICE: $39,775.00
Call Carrie for more details at 608-487-0087
Options:
Large 5′ Overhang on 10′ or 12′ End of Cabin
Covered Porch on 24′ cabin or smaller.
8′ Storage Loft with Railing and Ladder
Finished Pine Floor
Insulated Floor and Ceiling
Wood Pine Tree Shutters
Exterior Stain
Log Chinking
Interior Walls
Many Doors Sizes and Styles
Many Window Sizes 
Pre Drilled Electric Holes in Logs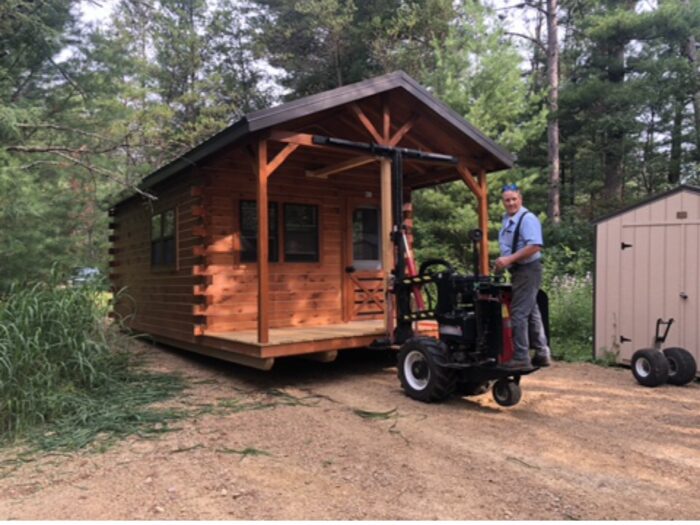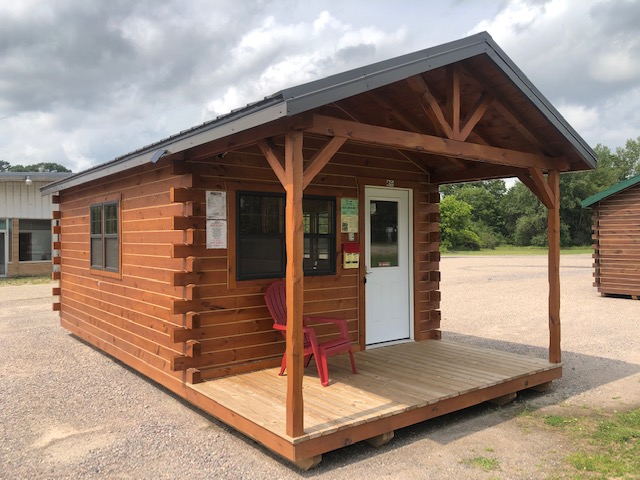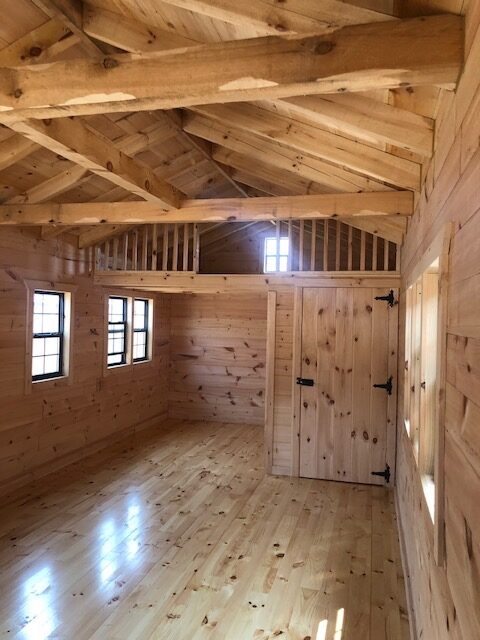 You must make an appointment if you would like to go inside a cabin, call Carrie for more information on pricing or to set up an appointment: Call: 608-487-0087.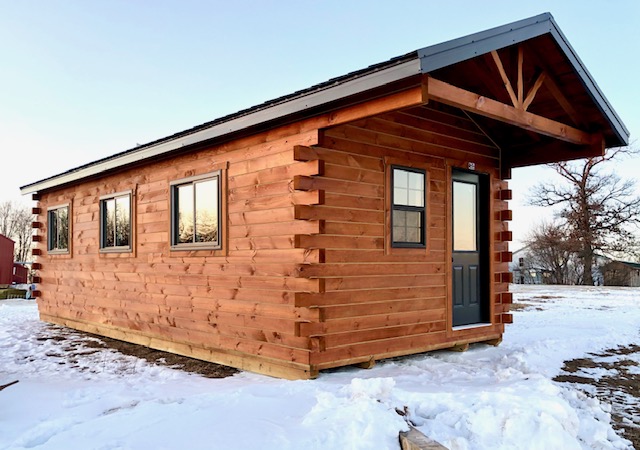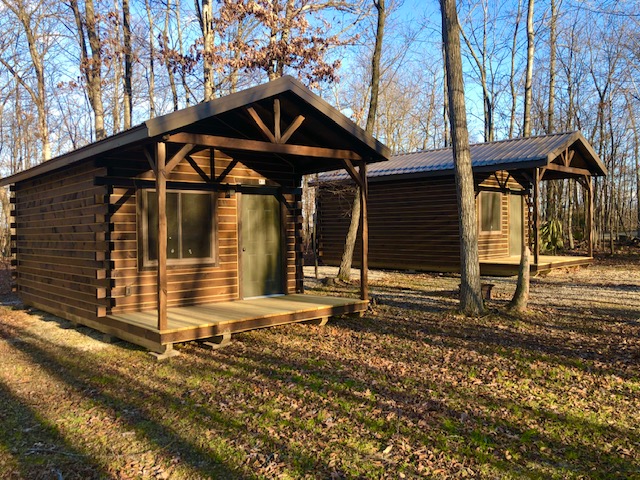 28 Cabin with Exterior Stain and Log Chinking